M
anufacturing capabilities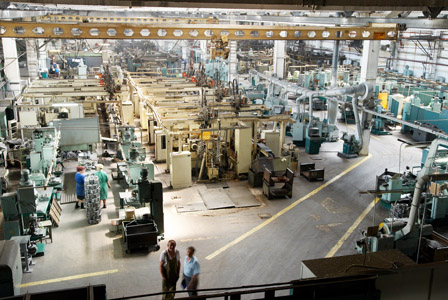 The company has manufacturing cycle which includes stamping, die-casting, mechanical, winding, assembling, painting, testing and packing manufacture.   
The company's own tool section provides repair and maintenance of technological tooling: stamps, moulds, special cutting and measuring tools and other devices. Manufacturing of complex technological tooling is provided by special companies by outsourcing.
Manufacturing cycle starts at blanking workshops. Stator and rotor for electric motors are manufactured at stamping and winding workshops. This workshop is equipped with stamping press for magnet core plates, cramps cutting semi-automatic machines for assembling of stator's core. The workshop is also equipped with lines for machine-operated winding and machines for automatic stator impregnating.
At nonferrous castings workshop machines for pressure casting provide cast products with weight up to 10 kg. Machine-assembling department is equipped with automatic lines for mechanical treatment of shaft, rotor and CNC turning machines.   
Manufacturing capacity of the plant is 50 thousand of electro technical products per month.   
Integrated
Automation
System
In 2008–2010 at HELZ factory, as well as at other companies of the UPEC Industrial Group, was integrated System for automation of engineering and design preparation and computer accompaniment of mechanical-engineering manufacturing (KSA).   
The KSA project is implemented on the base of integrated CAD/CAM/PLM solutions and software products of Pro/ENGINEER—Windchill base, РТС (USA). Also at factory was applied unique complex of technological manufacturing preparation on the base of Windchill MPMLink and VERTIKAL systems, ASKON (Russia).   
As the main advantages of the KSA integration could be noticed the following:
increasing of accuracy and quality of products by the means of work in united medium from engineering 3D model to manufacturing technology;

reducing of terms of technological processes;

increasing of effectiveness of technological and engineering documentation development and preparation;

reducing of expenses for engineering and technological preparation of manufacturing in whole.   
Energy
saving
During the last years forming of energy efficient politics became a priority task of HELZ plant.   
At present at factory are conducted such measures as:
equipping of premises with local spiral compressor units for reducing of losses of compressed air and reducing of power consumption with usage of secondary heat from local compressor units (rejection of central compressor station);

technical re-equipment of local boiler and heating plant for reducing expanses on plant heating;

warming of plant's frameworks;

replacement of illuminating equipment on more effective and energy efficient;

integration of automatic accounting of expenditure of energy resources.
Energy resources saving is also achieved by modernization of manufacturing. In the long term it is planned to replace gas melting furnaces at casting premises on modern induction furnaces.